Removing the engine and gearbox from an XK engined E-Type is relatively simply. In the original workshop manual, Jaguar list two methods, first to lift the engine out from the top, and the second method is to lower the engine down into a pit. (Later versions of the manual only gives the first method)
For the home mechanic who is concerned about lifting the weight of the engine and gearbox to great heights and who does not have access to a pit, then this second method can be modified. Rather than lowering the engine into a pit, simply lift the car from the engine. See below.

Engine removal 3.8 Litre E-Type

STEP 1
Make padded support for over riders, release bonnet retaining support springs and raise bonnet to the point where there is no load on the bonnet hinges.
STEP 2
Support bonnet from above. Remove hinge bolts and roll car back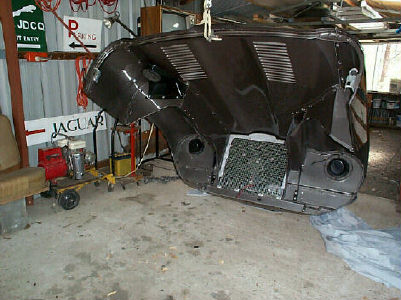 STEP 3
Remove exhaust pipes. Release all electrical, fuel, water, tailshaft, etc connections between engine and chassis. Remove radiator head tank. Remove inlet and outlet manifolds. Remove generator. Support weight of engine and gearbox, either with chain block or support from beneath on a suitable trolley. Remove front suspension torsion bars reaction plate. Release RH engine mount. Release LH engine mount and remove support bracket. Release central engine stabilizer. Release rear gearbox mount.
STEP 4
Lower engine and gearbox to support trolley. Fit chain block to top shock absorber mount bolts using suitable jig (two pieces 500mm x 50mm x 3mm flat). With handbrake on and rear wheels securely chocked, begin raising chassis.
STEP 5
Raise car chassis until free of engine, checking regularly for component fouling
STEP 6
Roll engine and gearbox from beneath chassis.
Mission accomplished...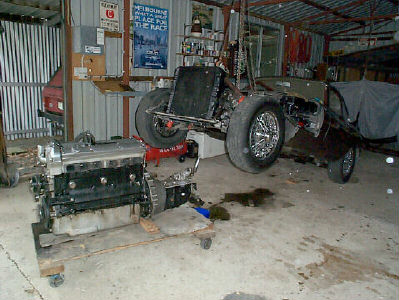 Replacing is the reverse of the above. Enjoy